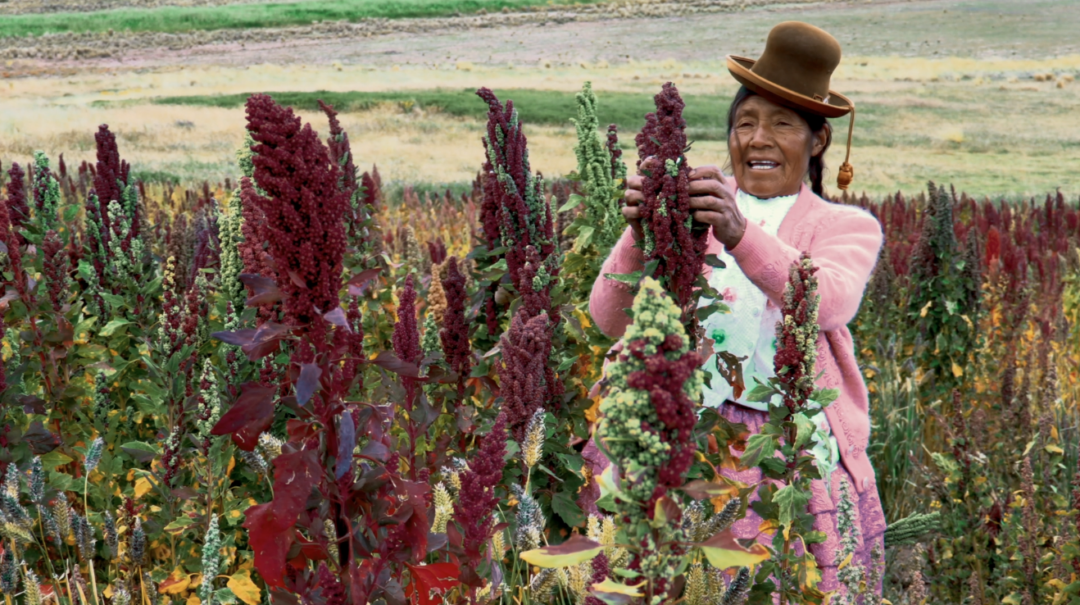 Måndag 17 oktober, kl. 18:00-20:00
Stora salen, ABF Malmö
Spånehusvägen 47
Fri entré.
SVE
Vi uppmärksammar den Internationella dagen för matsuveränitet med en vacker -och viktig- dokumentärfilm om matproduktion i olika nivåer: "Hatun Phaqcha, den hälsosamma jorden", av regissören Delia Ackerman. Man får även ett inblick på arbetet som organisationerna i Sverige -Latinamerikagrupperna och Framtidsjorden- gör i Latinamerika för att stödja en hållbar utveckling i regionen.
Hatun Phaqcha, Den hälsosamma jorden / Hatun Phaqcha, La tierra sana
Dokumentär. Regi: Delia Ackerman. Perú, 2021.
Tal: Spanska och quechua, engelsk undertext.
Längd: 92 min.

Trots sin rikedom på historia, kultur och biologisk mångfald är Peru idag ett av de länder som har en hög andel undernäring. Landets matvanor omfattar inte många av de gamla grödorna som är mycket näringsrika och som har odlats i tusentals år. Detta är en stor förlust av landets rika jordbruksarv och kultur. Den här dokumentären visar hur viktigt det är att bevara och ta hand om dessa livsmedel. Den väcker viktiga frågor om regioners sårbarhet när de bönderna ställs inför krav från en marknad som främjar monokultur samtidigt som de måste hantera hotet från klimatförändringarna.
I samarbete med Latinamerikagrupperna, Framtidsjorden och ABF Malmö.
ESP
Conmemoramos el Día International de la soberanía alimentaria con un bello -y muy importante- documental sobre la producción de alimentos en distintos niveles: "Hatun Phaqcha, la tierra sana" de la directoria peruana Delia Ackerman. También habrá información sobre organizaciones en Suecia -Latinamerikagrupperna y Framtidsjorden- y su trabajo de apoyo para un crecimiento sostenible en América Latina.
Hatun Phaqcha, La tierra sana
Documental. Dirección: Delia Ackerman. Perú, 2021.
Idioma: Español y quechua con subtítulos en inglés.
Duración: 92 min.
A pesar de su riqueza histórica, cultural y biológica, Perú es actualmente uno de los países con altos niveles de desnutrición. Los hábitos alimenticios de una mayoría en la población no incluyen muchos de los alimentos ancestrales que son altamente nutritivos, y que fueron domesticados hace miles de años. Esto representa una gran pérdida de su herencia cultural y agrícola. Este documental muestra la importancia de cuidar y conservar estos alimentos y saberes, mientras que cuestiona la situación de vulnerabilidad de las regiones productoras, cuando hacen frente a la demanda de un mercado que promueve el monocultivo como una forma de lidiar con las amenazas del cambio climático.
En colaboración con Latinamerikagrupperna, Framtidsjorden y ABF Malmö.
ENG
We commemorate the International day of Food Sovereignty with a beautiful and important documentary about the food production in different levels: "Hatun Phaqcha, the healing land", by Peruvian director Delia Ackerman. There will also be information of Swedish organizations -Latinamerikagrupperna and Framtidsjorden- and their field work to support a sustainable development in Latin America.
Hatun Phaqcha, the healing land
Documentary. Director: Delia Ackerman. Peru 2021.
Language: Spanish and Quechua with English subtitles.
92 min.
Despite its richness in history, culture and biodiversity, Peru today is one of the countries with the highest rates of malnutrition, and its eating habits do not include many of the ancestral crops that are highly nutritious, and that were domesticated for thousands of years.This is a great loss of its rich agricultural heritage and culture. This documentary shows the importance of conserving and caring for these foods, while raising important questions about the vulnerability of our regions as they face the demands of a market that promotes monoculture as well as dealing with the threat of climate change.
In collaboration with Latinamerikagrupperna, Framtidsjorden and ABF Malmö.
Trailer: